Clubs
Clubs are run on a variety of days by both our teachers and external providers.
Throughout the year we make sure that all age ranges from Reception to Year 6 get an opportunity to take part in a club, whether it is lunchtime or after school.
Children and families are informed about clubs on offer via our newsletters and permission letters sent out by the individual clubs coordinators.
A variety of different clubs are offered each term and include things like athletics, origami club, football, dance, choir and gardening club. The clubs are always very popular with the children and enjoyed by all.
Please note: We do not run an After School Club. However, a Before and After School Club facility is available at St Mark's Church for children that attend this school. This is a separate, privately run company which follows their own company's policies and procedures. For registration and bookings or more information please email emma@simplyoutofschool.co.uk
Clubs Timetable
These are the clubs currently on offer for Autumn term:
| Day | Club | Times | Staff |
| --- | --- | --- | --- |
| Monday | Gardening Club | 3.15 to 4.30pm | Mrs Cox and Mr Turner |
| Tuesday | Choir | 3.15 to 4.15pm | Mr Nichols |
| Tuesday | Dance | 3.15 to 4.15pm | Mrs Keeling |
| Wednesday | Mindfulness Group | 12.15 to 12.45pm | Y6 Pupils/Mrs Wright |
| Wednesday | Boxing | 3.15 to 4.15pm | Streetly Academy |
| Thursday | School Council | 12.15 to 12.45pm | Mrs Wright |
| Thursday | Dodgeball | 3.15 to 4.15pm | TSR |
Athletics Club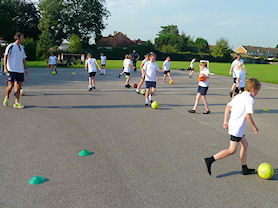 Practising our skills.
Under the guidance of our skilful coaches from TSR the children learn how to build up their own fitness levels and improve their skills while enjoying a variety of individual and team sports.
Dance Club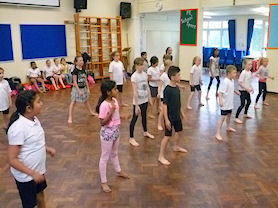 Warming up in Dance Club.
Our dance club is open to children in Key Stage 2.
We meet on a Tuesday after school and have great fun exploring all genres of dance.
Dodgeball
Under the guidance of our skilful coaches from TSR the children learn how to build up their own fitness levels, improve their physical skills and work as a team while enjoying playing dodgeball.
Gardening Club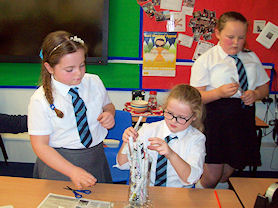 Making a bug house.
Our Gardening Club help to maintain and develop our school garden ensuring that it provides a safe and inspiring place to learn and reflect for all our pupils and staff, as well as its habitants.
Pupils develop a wide range of gardening skills and knowledge about plant life and cycles, habitats and garden maintenance.
Our Gardening club have planned a year-round garden timetable and have been fundraising for a polytunnel to enable the growth of vegetables through all seasons.
The Club are hoping to use what they have grown in the kitchen to create some culinary delights!
Guitar Club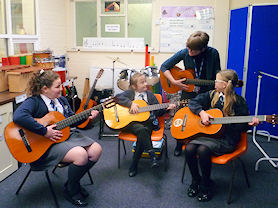 Guitar club is open to Key Stage 2 pupils.
We meet every Friday lunchtime in the music hub and learn chords, songs and give each child a chance to showcase their musical talents.
We have a limited amount of guitars in school, so if you have your own please bring it along.
Mindfulness Group
This group is for a selection of children who will benefit from learning strategies to help them self-regulate their emotions, having someone to discuss solutions to their problems with, needing time to relax and recharge and learning how to be more positive.
It will be run by two pupils from Year 6 with Mrs Wright for guidance. The children who attend and run this group will gain confidence and valuable skills which will be transferable to their everyday lives, in and out of school.
Sign Language Club
The Sign Language club is open to all children.
We meet on a Monday after school and learn about deaf culture, how to be deaf aware and how to communicate using British Sign Language (BSL).
Children will also explore BSL through different genres of music and performance.